Sonic Jewelry Cleaner
The Blitz Sonic Jewelry Cleaning Machine cleans gold, diamonds and other gemstones.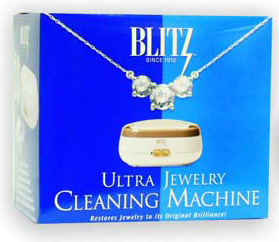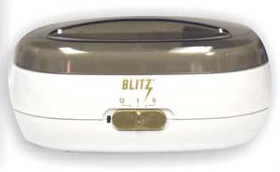 The Blitz Sonic Jewelry Cleaning Machine features twin tanks, one for cleaning and one for rinsing, two speed cleaning action, as well as a jewelry basket and brush. Included with the machine is our 4 oz. Gem & Jewelry Cleaner Concentrate, our 4 oz. Delicate Gem & Pearl Cleaner and our Jewelry Care Cloth. Electric UL approved.
How did your jewelry get dirty in the first place? Was it the residue from hand soap? Was it your moisturizer? When these materials build up they make your jewelry look dull and lifeless. A good sonic jewelry cleaner should provide a wash and a rinse. If the sonic jewelry cleaner has twin tanks, you can allow the jewelry cleaner concentrate to remain in the cleaning tank for later use while you accomplish your rinse in the rinsing tank. The sonic jewelry cleaner should be quiet, yet powerful. And is it too much to ask that a sonic jewelry cleaner be stylish so that you can display it with pride in your home and use it at your convenience? This describes the sonic jewelry cleaner from Blitz, which we are proud to feature at at the same low price to the public and to the jewelry trade. Note: This machine is suitable for a jewelry showroom but not for the cleaning stage of jewelry manufacturing, as it is not ultrasonic.